Winner for November 2018: Lucas and his Luka-Koras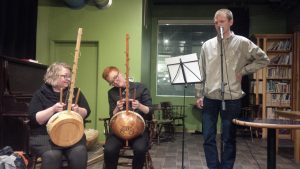 Update:
The instruments were delivered to House of Friendship Day Treatment centre on Friday, where Lucas demonstrated the instruments for several of the employees. He felt having both instruments at House of Friendship was best because of the interactive nature of having 2 players play together and also given that the instruments will be used more frequently and be better taken care of in this location.
They will be available to sign out by anyone who works at House of Friendship to use at any of the programs. Courtney Harris, the music therapist who works at several of the shelters and day treatment centre will be using them on a fairly regular basis.
At the supportive housing program Coffee House on May 7, Lucas will be bringing a bunch of koras and other instruments for participants to use.
Thank you for making this dream come true!