About Us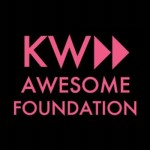 The KW Awesome Foundation is a local group of volunteer Trustees, who commit their time and money into funding great projects, ideas and causes in Waterloo Region. We hit the ground running in 2011 and haven't stopped since!
We've had the chance to fund a lot of really neat things in KW over the last four years, from guerrilla gardening and student events, to indie films, home-run community workshops, art installations and more.
We award this $1,000 grant every two months through our Pitch Nights – where applicants come to speak in front of the group of Trustees, to convince us why their project is special. The winner takes home the grant money in cold, hard cash, with no strings attached.
As always, the general public is welcome to check out these events as well — we hold them in accessible venues in and around Downtown Kitchener.
About The Awesome Foundation
The Awesome Foundation is an ever-growing, worldwide network of people devoted to forwarding the interest of awesomeness in the universe. Created in the long hot summer days of 2009 in Boston, the Foundation distributes a series of monthly $1,000 grants to projects and their creators. The money is pooled together from the coffers of ten or so self-organizing "micro-trustees" and given upfront in cash, check, or gold doubloons. The chapters are autonomous and organized by the trustees around geographic areas or topics of interest.
The Foundation provides these grants with no strings attached and claims no ownership over the projects it supports. It is, in the words of one of our trustees, a micro-genius grant for flashes of micro-brilliance.
The Awesome Foundation's website is located at http://www.awesomefoundation.org/.
Would you like to know more?
If you're still craving more input, or want to know more about the KW Awesome Foundation– hit us up on Twitter or Facebook, or use the contact form below, which goes straight to our Trustees.