Winner for March 2019: KW May Day 2019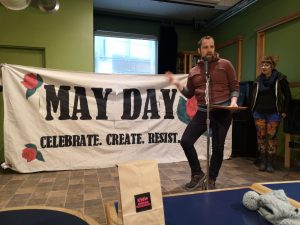 Congratulations to KW MAY DAY 2019!
From the event page:
Join us in the park and in the streets!
Wednesday, May 1st, 4:30 pm
Victoria Park clock tower
Potluck, performances, speeches, activities. Family friendly.
March to follow at 7 pm

Join us Wednesday, May 1st for our second annual May Day community gathering, to shake off the icy winds of winter, celebrate the coming of spring, and remember once again what it means to be resilient, radical, and rejuvenated!  Let's gather to share our stories, our grief and our joy, and to reimagine and remember what we want and need in this world!
In this space we can feast, create, dance, celebrate, and resist, while we continue to build connections with ourselves, one another, and the land.
Our goal is to create an event that is inclusive and free to everyone; grounded in mutual aid, voluntary participation, and personal/collective autonomy, without authority. We're dreaming up a fierce, fun, family friendly event, with diverse activities and a potluck in the park, followed by a most marvelous march. Let's put our dreams into action together!