Winner for July 2019: Change is in the Bag/All Things Preserved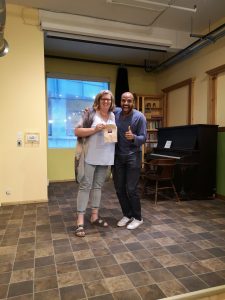 This project's goal is to reduce the use of single use plastic produce bags – the kind that people use many of at the grocery store – to cut down on valuable resources wasted in their production, to eliminate the burden on our recycling system, to keep unnecessary items out of our landfill, and to protect our waterways and wildlife.
I want to replace these with a sustainable alternative, by making and giving away mesh produce bags made from nearly 100% upcycled materials – previously-loved lace and sheer curtains and tablecloths, and drawstrings made from upcycled tshirt yarn. The bonus is that this process also keeps unwanted textiles out of our overburdened landfill.
I will be organizing a Making Day, where volunteers come together to make mesh produce bags, then insert a note explaining this environmental issue, then distribute them for free to the public.
I already make this item as part of my business, so I can easily streamline the production of these produce bags on a larger scale. We will have volunteers to cut, sew, and stuff bags then hand them out at various locations throughout KW.
Each reusable bag can be used hundreds of times, so the environmental savings are huge, and the pride of people making earth-friendly choices is immeasurable.